Post by Fool Coyote on May 17, 2008 7:54:57 GMT -5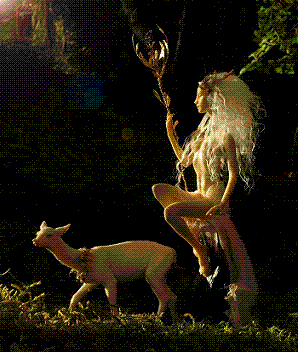 Fliodhais (pronounced flee-ish) is truly a character of many flows within the Irish texts, in my quest for information in this deity, I have made a search spanning many texts, which spanned many cycles of Irish myth and legend. To begin, we'll look into her associations in the mythological cycle.
First and foremost, her associations seem to be with the earth, and the manifestation of earth energies. According to the Lebor Gabála Érenn Fliodhais was the mother of the "cultivators" Arden, Bé Chuille, Dinand, and Bé Téite, and is the owner of magical oxen. It is from her motherhood that they are said to have been given the power to cultivate, and create the land. Not unlike her son Nia Ségamain who was said to have the ability to milk Fliodhais's "deer cattle" as easily as she her self. Even the prefix in his name, "ség" means "deer". In the Metrical Dindshenchas, Fand is another daughter with the attributes of her mother who marries the great sea god Mananann.
These things I think set up the motherly aspects of this goddess, which lead us into other more personalized aspects of Fliodhais. The earth and the land are mother to us all, and Fliodhais, can use the energies of the Earth to feed those she cares for. According to Geoffrey Keating's work, Fliodhais created a herd of wild does who gave milk as willingly as any cow, which would be the other half of Fliodhais's cattle herd. She was wife of Adammair, the son of Fer Cuirp, and from her comes the name Buar Flidaise, the Cattle of Flidais. She is said to have given her "faery power" to her son Nia Ségamain, in his time it is said that "cows and does were milked the same way every day, so that he had great wealth in these things beyond that of all other kings." So that there were two halves of Fliodhais's cattle, Both cows and deer, and they were milked by both Fliodhais, and Nia Ségamain, "whos mother had given him the Faery power".
These were each taken from earlier texts however, in later versions from other areas, there are only cattle, and not much is given to Fliodhais as far as being a "mystical" being. it's not impossible that the original legend was much as stated in the Coir Annam, that Flidais was a supernatural being, milking wild deer like cows, and that she was taken into the Ulster Cycle and made part of the tale of Fergus. However none of the Ulster tales of Fliodhais are pre-Christian in nature, the pre Christian idea of this character in the lore would run more along the lines of the Coir Annam.
This mind you isn't to say that there is nothing to be gained from her associations outside of what has been discussed. In the Leabhar Na H-Uidhri, we find one of the preceding tales to the Táin Bó Cúailnge - Known as the Táin Bó Flidais, or Driving the cattle of Flidais. This tale begins with a problem, Fliodhais is the wife of Ailill Finn, but she is actually in love with Fergus the son of Róg on account of the glorious tales about him. here I suppose we move a far cry from the earlier motherly typed tales of this figure into a more lusty type of woman.
Now before anyone should judge to harshly, it should be remembered that the Celts didn't go for the whole impervious gods and goddesses with no weaknesses in their tales. How can there be courage and strength in the tales unless there is danger?
Fergus Bricriu is our resident horses-ass in this tale, it is he, who fills Fliodhais with the all the heroic tales of Fergus the son of Róg. Bricriu, agrees reluctantly to take word to Fergus of Fliodhais's feelings for him, and that she and her cow Maol 'the Hornless' (a mystical cow who can feel an army (300 men) in one milking) will run away with him, should he come to her husband's castle to seek her.
Around this point we begin to see the more sexual, lusty aspects of Fliodhais. Fergus was said to be a man, who unless Fliodhais was there needed seven women to satisfy his sexual needs:
There were, however, men within whom, as is told, that did not suffice, for instance, Fergus mac Róig. If true it be, noble was his size-i.e., the heptad of Fergus was not often met with any other, to wit, seven feet between his ear and his lips, and seven fists (ie. 42 inches) between his eyes, and seven fists in his nose, and seven fists in his lips. The full of a bushel-cup was the moisture of his head when being washed. Seven fists in his penis. A bushel-bag in his scrotum. Seven women to curb him unless Flidais should come. Seven pigs and seven vats (of ale) and seven deer to be consumed by him, and the strength of seven hundred in him. It was needful for him then to feed the household for a week (seven days) more than anyone.
Naturally, I think, it would take a goddess to handle such a...large man...
To me Fliodhais is a motherly aspect, friendly, and giving to those who respect Earthly energies, she represents the mystical, physical, and spiritual manifestations of the sexual, the practical, and necessity curbed both magical and mundane means. She represents the giving nature of the earth, and yet with all of her giving aspects, isn't afraid to reclaim her bounty and give it freely else where to those who would appreciate it. From oxen, to deer, to cows, her earthly manifestations seem to be a bounty of nourishment for the masses by the four legged milk (life) giving animals, whether wild or domesticated. In this way I think Fliodhais embodies both domestic, and wild warrior types of women.
-Senbecc
Now, I was unable in any of my studies to pinpoint any association with Fliodhais, a deer drawn chariot, archery, hunting, or the like. If anyone would like to add to this thread these things they are most welcome.

- Geoffrey Keating, Foras Feasa ar Éirinn
- Irische Texte, III. P. 295 (Stokes translation)
- Edward Gwynne (ed & trans, 1906), The Metrical Dindshenchas Vol 3 poem 49
Heroic Romances of Ireland Vol II pp. 104-105
www.maryjones.us/ctexts/conchobar2.html
www.highbeam.com/doc/1O70-Flidais.html
(^Oxford university press)
www.sacred-texts.com/neu/hroi/hroiv2.htm
www.timelessmyths.com/celtic/danann.html#Flidais
www.ancienttexts.org/library/celtic/ctexts/flidais.html